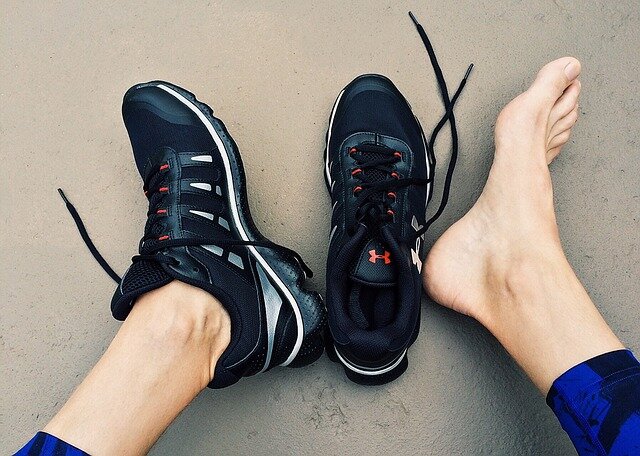 Did you know that June 3rd was Global Running Day? Running is an activity that is very popular, and it's never too late for anyone to start. All you need is some motivation and a good pair of running shoes!
But not just any old shoes, because your shoes can greatly impact your foot health and risk of injury. Beware of the following mistakes people make when buying running shoes:
Being unaware of the different types of shoes - If you are planning to train for a marathon, you shouldn't be choosing a shoe that's meant for an aerobics class. Each shoe has differences in cushioning, support, traction, and flexibility depending on what activity you plan, so make sure your shoe is meant to be for running.

Assuming sizes are the same - Even if you know you are a certain size in one brand, there is no guarantee that the same size will fit for a different brand. Always try on both shoes at the store to check for sizing.

Not knowing your foot type - Even though running shoes may look similar, many are built to accommodate different foot types. Some people's feet roll in towards the arches and others' feet tend to roll outwards, so knowing will help which type of shoe will fit best.

Shopping in the morning - It is best to go shopping in the afternoon when your feet tend to be swollen. Always check both feet and get a size that accommodates your longest toes to avoid blisters and bruised toenails, as your feet tend to swell during exercise

Not considering custom orthotics - Getting custom orthotic inserts for your feet can help address any abnormalities or issues in foot mechanics that can impede your walking/running, and prevent many foot and ankle issues.
Consult with us
Before picking out your shoes, it is also important to make sure your feet are in good health. Seeing a podiatrist before starting a new exercise regime can help ensure that your feet are ready and that injuries can be prevented. Our experienced podiatrists at New Jersey Foot & Ankle Centers have been helping patients keep their feet healthy and with all kinds of foot and ankle issues like heel pain, bunions, and diabetic foot care. Have questions about our COVID-19 policies? Contact our Oradell, NJ office at (201) 261-9445 and schedule an appointment!