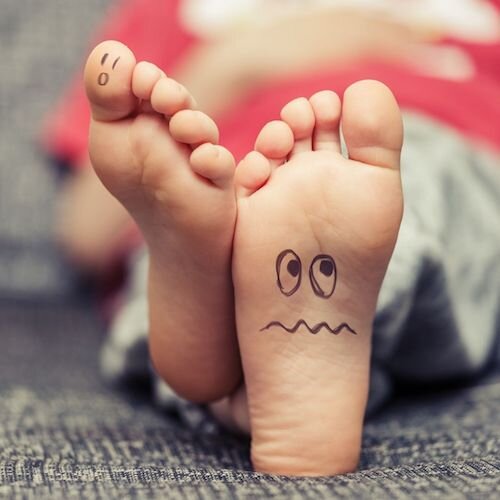 Have you ever noticed your child limping, complaining of foot pain, or not being able to keep up with their peers? Often, kids can suffer from common conditions that can affect their feet, and it's important to take these issues seriously and be evaluated by an experienced podiatrist.
The good news is that if caught early enough, small issues in childrens' feet can be treated early to prevent them from becoming major issues.
Here are a few common foot issues that often affect kids.
1. Flat Feet
Keep note of how your child walks, or their gate. If you ever notice a difference in how they walk, or if they complain of pain in their feet, ankles, or knees, they might be suffering from flat feet. Flat feet put stress on the joints and tendons throughout the leg, which can wear them out and cause pain. Custom orthotics and physical therapy are typical treatments for flat feet. This is a condition that is really important to catch early!
2. Heel Pain
Heel pain is often thought of as only an adult issue, but while the causes may be different, kids' feet can also experience the same types of issues as adults! Often, heel pain in kids is due to issues with their growth plate which could indicate a serious condition. If your child is suffering from heel pain, they should be evaluated and treated as soon as possible to avoid any long-term foot issues.
3. Ingrown Nails
We see ingrown nails frequently in our child patients here at New Jersey Foot and Ankle Centers. Improper nail trimming, tight shoes, or athletic gear are common culprits. Ingrown nails can leave your child's feet prone to infection, so they should be treated by our foot care specialists to prevent complications. If your child develops ingrown toenails frequently, be sure to contact our office for an appointment.
4. Warts
Warts can appear out of nowhere and can be painful and unfortunately tough to treat with at-home remedies! Warts typically appear on the bottom of the feet, an area that is often thick and tough. Since they are caused by a virus and can easily multiply, it is important to have them properly removed by a podiatrist. Typically, wart removal strategies require a combination of topical medication and debridement.
5. Shin Splints
If your child is very athletic, they might develop shin splints. This condition occurs with excessive force on the muscles surrounding the shin bones, which leads to inflammation and pain. Our podiatrists may recommend orthotics, anti-inflammatory medication, along with lots of rest to help resolve the issues.
We're here to help!
If your child is dealing with any of these issues or any other complaints, please call us at New Jersey Foot and Ankle Centers. Our dedicated podiatrists, Dr. Daniel Margolin, Dr. Justin Donovan, and Dr. Alandra Greenlee, treat our young patients with personalized, compassionate care, and support any foot and ankle problems that they may experience. To set up an appointment, contact our Oradell, NJ office at (201)261-9445, or book an appointment online today!